Vanessa Beeley
21st Century Wire

"I would like to point out something, if you open the trending section in Facebook you will see that Aleppo, Syria is trending. They say the Syrian government is continuing air-strikes on Aleppo. The funny thing is we dont see or hear any planes." ~ Marianne R Bedoun, Aleppo

The following photo was taken from Soros funded ANA Press director, Deiaa Dughmoch's Facebook page. Translated as Aleppo citizens searching the skies for war-planes. According to Marianne Bedoun, they might be there some time.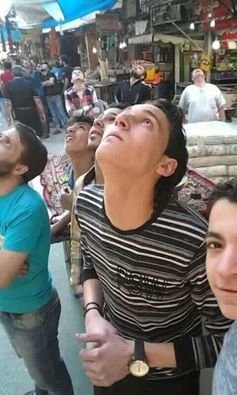 Marianne was immediately targeted by hate speech from the followers of mainstream media and the US NATO governed propaganda outlets who are controlling the Aleppo narrative. This from one UK based Facebook responder:
"Its about hiding the truth that Assad is massacring the Syrian people to keep himself in power and the US and NATO are backing him up rather than engaging in any Wahhabi terrorist support operation. Its really quite racist to call those defending their homes and lives NATO backed terrorists but I guess you are so deep in this shit you cant see." ~ Dick Gregory. [Juggler, also available for childrens parties]
Marianne responded from inside Aleppo:
You are right I am so deep in this I cant exit because I am a Syrian living in Aleppo. And please tell me where did you get your facts? Your brain-washing western media? I am telling you what I see every minute. Racist? We are the ones defending our homes against their brutal ways...hell cannons, hand-made missiles etc every day since day one"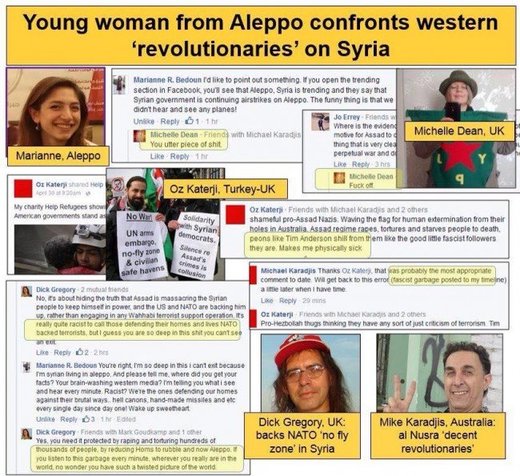 This social media exchange exemplifies the ever widening chasm between the reports from the Syrian people living in areas under siege or occupied by US NATO backed terrorists and the blatant bias from western and gulf funded journalists.
"The Pentagon has now designated "information operations" as its fifth "core competency" alongside land, sea, air and special forces. Since October 2006, every brigade, division and corps in the US military has had its own "psyop" element producing output for local media.

This military activity is linked to the State Department's campaign of "public diplomacy" which includes funding radio stations and news websites. In Britain, the Directorate of Targeting and Information Operations in the Ministry of Defence works with specialists from 15 UK psyops, based at the Defence Intelligence and Security School at Chicksands in Bedfordshire.

In the case of British intelligence, you can see this combination of reckless propaganda and failure of oversight at work in the case of Operation Mass Appeal.

This was exposed by the former UN arms inspector Scott Ritter, who describes in his book, Iraq Confidential, how, in London in June 1998, he was introduced to two "black propaganda specialists" from MI6 who wanted him to give them material which they could spread through "editors and writers who work with us from time to time". - US Government Has Long Used Propaganda Against the American People
The Aleppo Spin



A very quick look at who has rapidly generated the #AleppoIsBurning campaign that has made red the new black on Facebook and Twitter brings us rapidly to the Purpose Manhattan PR company and their Syria cohorts. Syria Campaign, the White Helmets are implicated and the actual event has been created by none other than Rami Jarrah of Soros funded ANA Press based in Southern Turkey and operating with the explicit approval of chief terrorism supporter, Sultan Erdogan.